Today in Genocide History
3/28/1915
The Armenian Dashnak leader, Murad, resists arrest in Sivas and flees to the mountains, and after many daring escapes reaches the Caucasus.
3/28/1915
Hamid, the governor-general of Diyarbekir Province, is removed for opposing the order of massacre, and is replaced by Dr. Reshid.
Complete Armenian Genocide history and timeline
Armenian Genocide News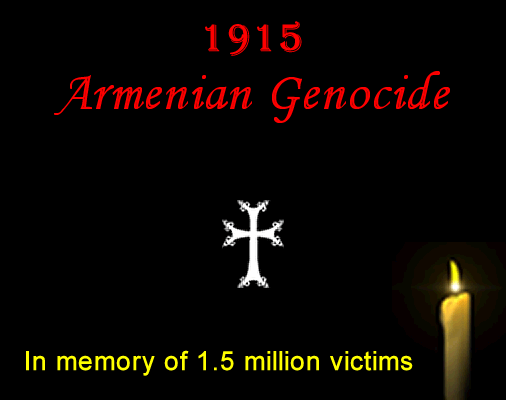 The Lesson to Learn
In 1915 a nation was to be drowned in her own blood. The Devil from the Hell was unleashed - to massacre a whole race. They were called the "Young Turks" in the Turkish Ottoman Empire. They came with promises of reform and progress. But secretly, they planned a massacre in mass scale. Their legacy was a new damned word in the dictionary - "Genocide". In April 24, 1915, the brilliant Armenian intellectuals were killed first. Thus they cut the head of a nation to kill the body left defenseless. Blood of Armenian people run like rivers. Tears of Armenian mothers run like creeks, as their angels were slaughtered, in front of their eyes. They begged to be shot, to escape the unimaginable pain and agony. Young girls jumped to their deaths into the open sea to escape rape and torture. They died of hunger and thirst. They were burned alive. They were thrown into the caves which became their graves. You can still hear the echoes of their last cries. Deportation and depravation, extermination by all and any means. To erase a race from the face of the Earth like it never existed. Those who did this were not human, but wild beasts from the Hell. They had no heart and no head, just hands and swords to kill, rape, and ravage. No one was spared from the rage of this Evil. If you were a Christian minority in Turkish Ottoman Empire in 1915, you were doomed to death. This was the order of "Young Turks" and they made sure of that. Nothing could help you; not the whole world nor even your God. The Devil's pitchfork pierced the Armenia's heart. Nothing was left of once a rich and beautiful culture. No one was left of so many peaceful and hardworking people. One and a half million of them perished a century ago. But they did not die to this day. They live in our in our hearts and they became our identity. We carry on their legacy and continue their unfinished work. For a century already we scream for justice for the victims of the first Genocide of the 20th century. And suddenly, we realize that we are the "Justice", every one of us. We are the proof that "Young Turks" failed. This great tragedy, this crime against humanity, made us even stronger and more united. A "Young" Armenia was reborn to fight for truth and justice for all.
The lesson to learn - no matter how big the Evil, the Good will prevail in time.
Genocide References
Armenian Genocide Petition
Join the 85,032 people and sign this petition to support the recognition of the Armenian Genocide!
Armenian Genocide Quotes
"If nations are allowed to commit genocide with impunity, to hide their guilt in a camouflage of lies and denials, there is a real danger that other brutal regimes will be encouraged to attempt genocides. Unless we speak today of the Armenian genocide and unless the Government recognizes this historical fact, we shall leave this century of unprecedented genocides with this blot on our consciences."
-- Caroline, Baroness Cox, House of Lords